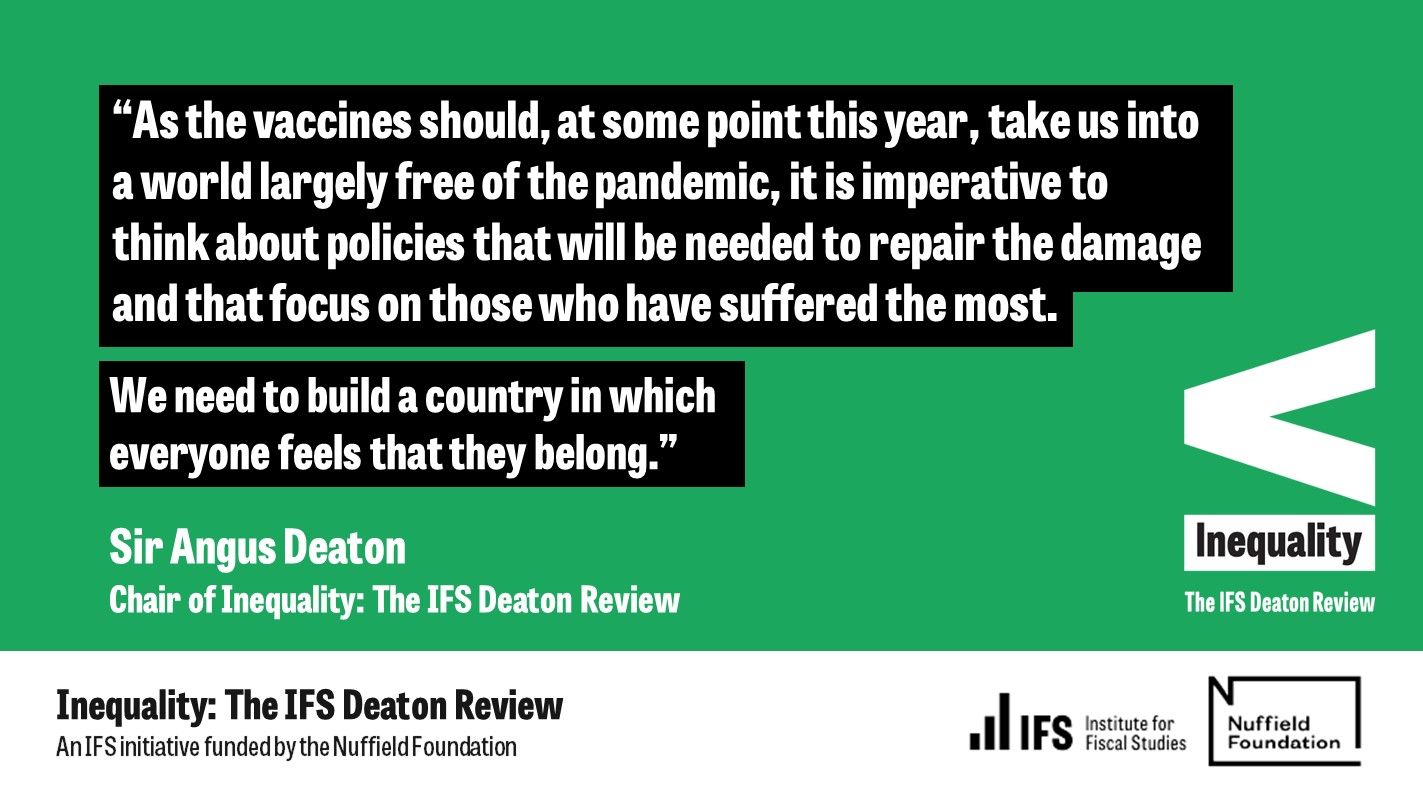 Inequalities are at the forefront of today's public and policy debates. They have been linked to some of the most important political events and have sparked worldwide protest movements. There could hardly be a more pressing time to understand how inequalities arise, which ones matter, why they matter, and how they should be addressed.
The coronavirus crisis and political upheavals in the US and UK have shone a harsh light on the increasing inequalities we face, and prove that not everyone is affected...
In recent years, some of the most talked-about trends in the UK labour market have concerned the growth of 'non-standard' or 'alternative' forms of work. These have...
Professor Sir Richard Blundell and the team at the ESRC Centre for the Microeconomic Analysis of Public Policy (CPP) have won the ONS Research Excellence Award for their work...
The coronavirus pandemic has underlined the many deep social and economic fractures within countries - divides of race, class, education and income. But will it end up...
A research workshop on welfare and the low wage labour market was held as part of the IFS Deaton Review on 28th and 29th September, co-organised by the IFS and the Centre for...
data:image/png;base64,iVBORw0KGgoAAAANSUhEUgAAAT4AAACfCAMAAABX0UX9AAAA3lBMVEUcp17///8AAAAAolO74MoIpFeEyqIRpVpeuYRrvo4YplwdrGEqrGgEAAAAolEdq2AVFRUboFopKSnExMQSCQ2Vk5QcFhipqKgWDxISbz4HKxgYklKvrq5DQEG4trcbolsXi07x+fUkHyE3MjQMSSkqJCfb2toes2UQXjUOVTAEGA0LQiUIMx0Xh0zU7N7B48/m5uZsamt3dXaGhIUFIBIQYjfg8edOtnyw28KV0K3P6dqb0rJcWVpOS0zu7e2Rj5AVe0UGJBQEGg97xZpUtn7R0NFxb3AJOiEDDwkUdUJWc/sXAAAHRElEQVR4nO2dC1eqWhCA2WNGQcjhivjAB6GpiJ7MsqeiPbzV//9DdzZmWWmCuuqcu+dbPZDHOvqtmT2zCTiSRBAEQRAEQRAEQRAEQRAEQRAEsTGK8tPv4O9FSabkA/K3FugueX/M9uSffiN/IehO2r1mCOmLi5xMHVz9ZlNIXyyUROri5py9QvqiI3N3h2we0hcNBd3tXb53R/oiIqfk/Z1P7khfFLDM3h8vckf6VvHWopC+uITufi93R/qWg6Xi4Or8S3ekbwnyh/aO9EUH3T18blFIXwSWtHekLwrJVHJ/J7I60jeHErZ3sdyRvhfQ3cFX7R3pW44yfwaK9MWCt3eRWhTS9xEss4lo7R3p+wi6S8ZpUUjfG4qcSiw+A0X6VpJEd7FbFNLHwTKr3K/ToizmQix9yqozUDE4v3lICfZXcnl/O+oOd/alVEKs0JO2pO/66iCRkAULvJCN9Z1f7iVSSeHC7oWN9B0e3/OMFTHsXlhf3++bi1QiKbA6znr6zi+xUAibsXOsoe94lxeKn37jfwYx9Z1jxqZEz9g5YugLWztS946I+g6vry4E7IpXEkXf4c2FwK3dl0SKPkzbJKXtIiKPfde7B5S9n4hTec9vHgSd2i4lZuNCafyeNdrm610RT00tZs1JG9ZiMihtcMrg8HJfoTTe6IQVr8Zi94Obni7lk2CBq/EWTtZjGgtbjbf0p6JjUdNY3vCillemafzTH+fbCW+I3I7Bw8s9EXNY2Z5B0S7SeGFbBgXVJ23JoLj6pM0uyyV9nPCi8PUNiq5Pml6ztq5B0hey+t5J0vcl693aQfreCG8simeQ9L0nmZLjGCR9n+CPV4pqkPQtIPrtgaRvCdEMkr7l8Nt7VxgkfV+hyKnUlwZJ3ypkHoOHpG9tFG5w8R1wpC8S3ODegscckL6ohA/Z+BiDpC8Onx5TQvpiIicScwZJX2zm70MnfeugzB7URPrWhRvceSB96yMLeJkBsQFYOLfJT3+cb0a+ON7ZJgc//YG+l209y2CGYP9jAunbiBd9xWwxuqJusdit4zfpm+kD+BVdXxognQUok76Zvl/wTxx9GtdXZPXMgPStpY91uwEbQo70zfSlM9nuyTCDr4JMLxNwT5lJt15n5XKZpcs4OAbZ3ml6qq9bLnfTJcstl4Mi31QslwXXNwK3alqAgQWaqVmMlUEDFyxWBZMNAFjgaqaJOfuSvOkjy3VxNe7F6gADwfVlTKtUsswRG+aOBpaWYVXLHeTcKitZR+zEApbRrIFlVaf6TC09qrpur8cGFtRxVVF4fVCvQ+40ADPDTGsQQO5fdmS96ethqPVyMNNXRnEuHlvUtHTRhC7p63J9E3BLA9ca1rnG4Zy+IOimMdTm9Vl8pAQzOzKropeOmb605poAUJpwfYPcmz52aoLlftLHhmavp52Svln0mVkW8AL7QV8RV7gL9GW10gArDukL9XXDMQ8weXM9VMf15TCJcdwzh0x7r8/kB3fBtSAgfVN9zMKBDytvAK57wisvBlnJRG2n5tFIc7X0q75ezhqc4NElyxoK3TbzOe8IuD7oYb9nYt8XsAG2ebzyZiAHJ8CjzuS/TyazOS8WF+BhlzXNjND6isUy604mLCgWJ4xNTsNZR3Dam/DkZZkezi2wr5uMymyCM5HXMy7dzCiLR5c1mAitbymhvlUMw/6P9H2mmlupD+d1MCJ9iwOrOvx6Bz5uwsnrC9IXm27wtkz6NkIwfcrB7laRxNInKcmtIpg9giAIgiC+H8P+sEI3Knr4W192yPItQlHBKWu7D+r0lZ4HA1fYHkBHV58Axq+W9MrbQbhPq/OyRe+A8Z1v+A9jfNt2+q2GKumqOtXXfLahA56q3nk1mK5WVbXZbvBFXNJRX7NV4EuIavsGbtBxky6pP/1pvp1Gu9Zotm49dXzb1EN9TsMGo/asq63mGAy7UMMAO3Na8GwXHiXPh7yK+3hnaq1gN/vjmu1XOree/Wh4fePx4yjwv0fl+sBvVaANhsr1+U29ADZGU8vrgP1UAOe2Bv32ndNuQ94/axdQnw/NPBRqXrvZQtdQgDE4cCZgHof6zp7RQh+dcX0FX5fQnx7qc8CDcceGvNdWoVPo+7Um19cC3b/z2uOnmufgPk38fm618iBc9r7pw+QL9XUaRr7yVMOxr4bRB37ffgauT4fxq748OP5THwfJ27yDA2Wtb7T9WqHmC6zPuZtGX0fH5TbX53sgwbPfwdTMe4UGjO/yL/o6Z83aWceXABwefeO240H+EfrCtTNqwW94T3n0BDCtvNisAG9ZwsalUQAwbrG5yYPXxMW2j0UD92kChmS/8QSVDlRaeGgenr25PkcYbEPiDYhe6RhhA21XsGvOO5iGti2hjo6hVxzDVh38MnA/3mPbRsXWbUfHXfSKPd3Hrhh2ZfU/979lOs+Q5qYbrz/06Xp9bld9uo8++3q3nSAIgiAIgiAIgiAIgiAIgiAIgojBf/s905xZONOJAAAAAElFTkSuQmCC